By Tamsin Wort
The SA-EU Dialogue on Policy Improvements for Transgender and Intersex Persons kicked off on Thursday 4 November 2021 with a call for real change to enable Transgender and Intersex persons to exercise their rights.
Iranti, alongside civil society organisations Intersex SA, Gender Dynamix and the African Centre for Migration and Society, joined with representatives of the European Union and various South African government departments to review policy protections for Transgender and Intersex persons.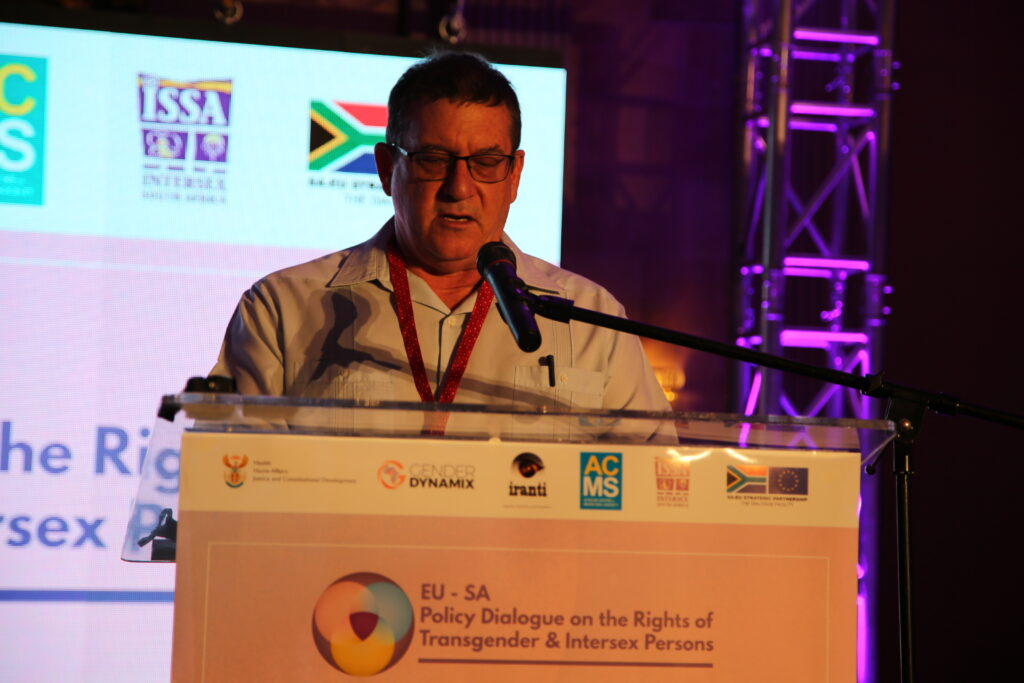 In his opening speech, Deputy Minister of Justice and Constitutional Development John Jeffery said: "This is a historic event. We're meeting here over the next two days to shape policies for South Africa on Transgender and Intersex issues.
"While strides have been made, gaps in policy and implementation still remain. Freedom, dignity, and equality go to the heart of the Constitution in South Africa. Many are not free to be themselves, face discrimination based on their gender, LGBTQIA+ status, gender identity and sex characteristics when trying to access care that many take for granted," Jeffrey said.
He added that Intersex persons are also denied the right to their general autonomy, saying that this needed to be changed as a matter of extreme importance.
Jeffrey said the government, and his department specifically, needed to respect and fulfil the rights of all South Africans, particularly members of the LGBTQIA+ community – with an emphasis on the rights of Transgender and Intersex persons.
"To protect a right means to put in place laws, policies and procedures to ensure that people enjoy their rights," he said.
'WE ACTIVELY CONDEMN DISCRIMINATION AGAINST LGBTQIA+ PERSONS IN SA AND GLOBALLY'
EU Ambassador to the Republic of South Africa Dr Riina Kionka noted the high level of interest in the issue despite challenging times.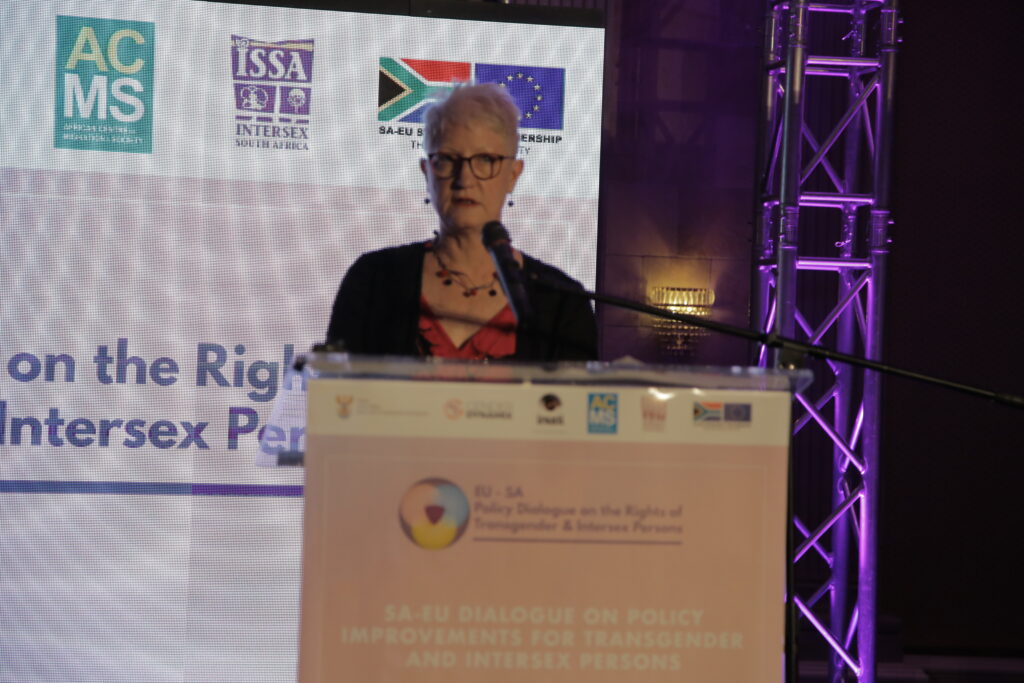 "I hope today underlines that these discussions are crucial for Transgender and Intersex persons in South Africa. Equality and non-discrimination are the core values of the EU and are fundamental to human rights," said Dr Kionka.
"We believe in a Europe that embraces diversity and does not hide it. And this conviction and our commitment is also reflected in all our actions globally and with our partners – including in South Africa."
CONDITIONAL EQUALITY
Justice and Correctional Services Minister Ronald Lamola delivered the keynote address.
He said the Dialogue was a platform to share views on how to improve policies to protect Transgender and Intersex persons in South Africa.
"The outcomes of our collective ideas and reflection will be able to change the lives of Transgender and Intersex people."
Lamola said the Constitution requires us to lay the foundation for a democratic and open society, to improve the quality of life for all persons.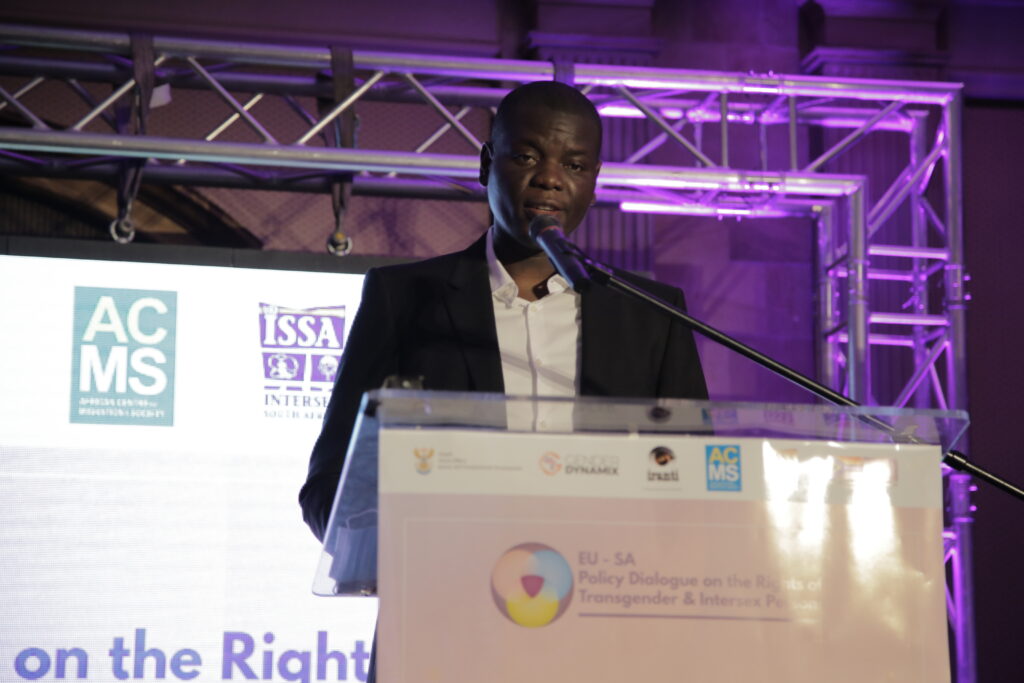 "Although progress has been made, a lot still needs to be done. Despite these equalities embedded in social structures."
He said: "Equality is still conditional in many of our communities -– that performance is simulated to whiteness or masculinity. When persons are deprived of their legal recognition, it results in legal and personal challenges."
The minister said all officials in government must undergo sensitisation training.
"I have informed my department that this must be implemented with dedication and speed. This must be in all departments, especially those on the forefront of LGBTI communities."
Lamola said what happened to Jade September should never happen to anyone, ever again.
Jade September was a Transgender prisoner, held at the Helderstroom Maximum Correctional Centre in Caledon, Western Cape, who turned to the Equality Court to compel the Department of Justice and Correctional Services to allow her to dress as a woman, even though she was in a male prison.
A MILESTONE MOMENT
Gender Dynamix Executive Director Liberty Matthyse said: "We've been waiting 18 years to come to this particular moment, to look at what change can look like."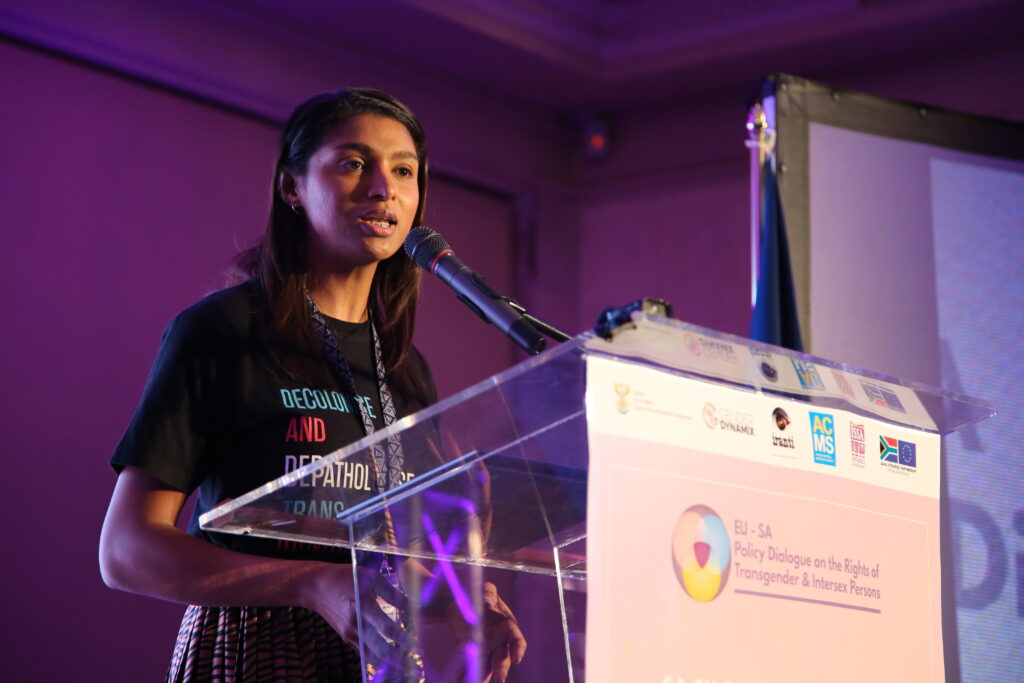 Matthyse reflected on the Local Government Elections at the weekend, saying that political commentators had emphasized the resurgence of right-wing support in South Africa, something that is reflective of global objectives.
"This brings the prospect of an inclusive and equitable future increasingly under threat," Matthyse said.
She said that as the LGBTQIA+ community commits itself to engage in the discussion on Legal Gender Recognition (LGR) in South Africa, allies and members alike would do well to recognize that time isn't necessarily on our side.
"Our mission is to coordinate national action, to ensure Act 49 is implemented while it's still on the table and the passing of a new piece of legislation on the basis of the right to gender self-determination."
"This dialogue is a milestone moment for us to achieve what we need to achieve in its most authentic form. This will take us closer to achieving sustainable development goals."
'TRANSGENDER AND INTERSEX RIGHTS ARE HUMAN RIGHTS'
Deputy Director-General for Civic Services at the Department of Home Affairs Thomas Sigama took to the stage on behalf of Deputy Home Affairs Minister Njabulo Nzuza.
In opening, Sigama reiterated: "Transgender and intersex rights are human rights."
He said the Home Affairs Department was at the centre of ensuring that every person in South Africa had a legal identity.
"This includes Section 9 and 10, which require that the State that prevents discrimination on the bases of race, gender, sexual orientation etc.," Sigama added.
He went on to say: "Only the department is mandated to confirm and assign an identification number and issue an ID or a passport, register a marriage or issue a death certificate and grant permanent admission for anyone."
Sigama said that while South Africa had made positive strides towards ensuring that no one was left without legal existence, there remains a group of people who are undocumented.
"The department's policy and legislative framework work to ensure that everyone is protected, regardless of their race, gender etc. This policy will be approved by the government."
Sigama was adamant that without a legal identity, that affirmed a person's identity, that person wouldn't be able to marry or travel anywhere outside South Africa.
"We must collaborate as government and civil society to drive our agenda forward," he said, adding that, "We need to protect the interests of all who reside in South Africa."
Quoting Nelson Mandela, Sigama said: "It looks impossible until it's done." adding that policy reforms were there to restore the dignity of LGBTQIA+ persons.
WE HAVE TO BE VISIBLE
To end his welcome note, Jeffrey quoted veteran Transgender activist Sylvia Rivera.
Rivera was an American gay liberation and Transgender rights activist who was also a noted community worker in New York, America. Rivera participated in demonstrations with the Gay Liberation Front.
"Rivera was rejected by her family and left home at the age of 11. She was also a veteran of 1969 Stonewall Inn uprising. Rivera and others were discriminated against and prevented from participating in Transgender parades."
"Rivera said: 'We have to be visible. We should not be ashamed of who we are. We have to show the world we're numerous. There are many of us out there.'"