By Cullen Goldblatt
Key legislation currently governing legal gender recognition in South Africa will be changed, delegates at the SA-EU Dialogue on Policy Improvement for Transgender and Intersex Persons were told.
Speaking on a panel entitled "Legal and Health Status on Legal Gender Recognition for Trans and Intersex persons", Sihle Mthiyane, Chief Director: Policy and Strategic Management at the Department of Home Affairs, told participants the law needed to be changed to ensure everyone could access their rights.
Mthiyane was on a panel moderated by Estian Smit of the Triangle Project, with fellow panellist Dr Gerhard Grobler, head of the psychiatry unit at the Steve Biko Academic Hospital in Tshwane.
Mthiyane said that the law that currently governs the changing of a person's legal gender designation, South Africa's Alteration of Sex Description and Status Act (No. 49 of 2003), would be repealed and replaced with an entirely new piece of legislation.
Furthermore, he said, South Africa is working towards a gender-neutral framework—in which residents will not be categorised based on their gender.
Mthiyane explained that South African national ID numbers currently indicated the legally assigned sex of the person with options only for male or female – a "binary ID number". Under the new legislation, people will be able to choose (for themselves and for their newborn child) whether to have a binary ID number or a gender-neutral number.
In response to suggestions that it would be best to have a gender-neutral regime — with gender-neutral numbers for all, in the near future — Mthiyane explained that this was not possible because of expense.
Crucially for Trans, Intersex, and all gender-diverse people, under the new legislation, a person's legal gender will be their self-recognized gender. Spontaneous applause followed Mthiyane's statement that we are "moving towards a gender-neutral policy framework. Your sex has nothing to do with your legal identity. I think that is what we are trying to do moving forward."
This discussion was followed by a discussion reviewing "A Rights Approach to State Implementation" moderated by Iranti's founding director, Jabu Pereira.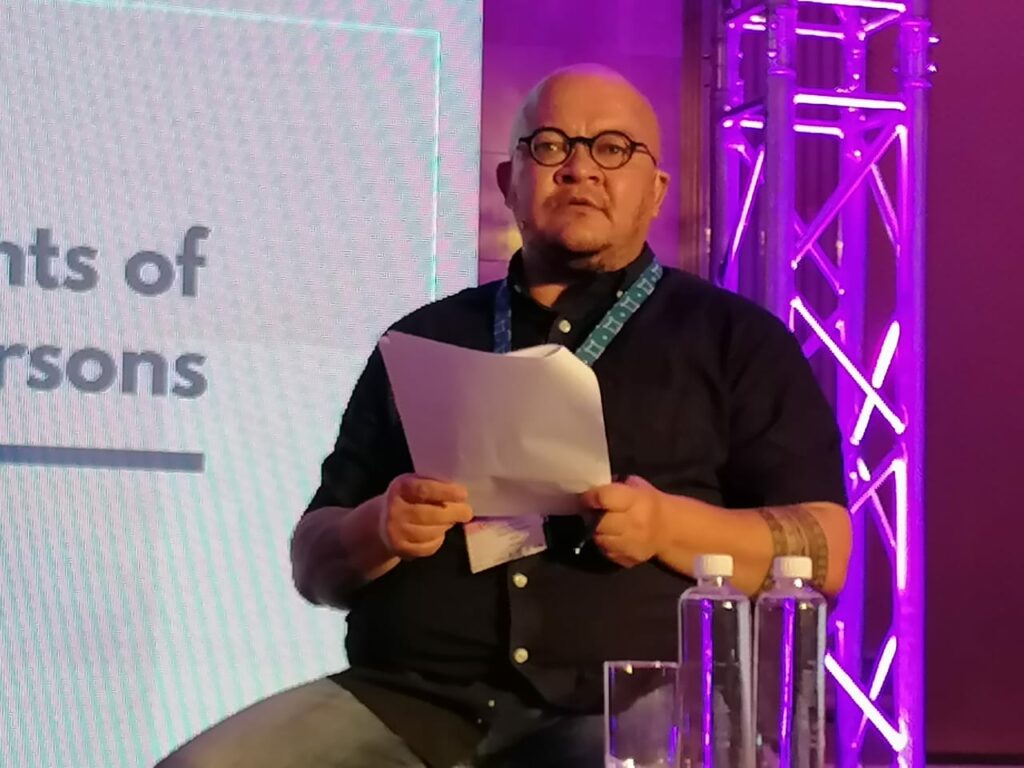 The three guests, Gabriella Calleja (head of the unit addressing sexual orientation, gender, and sex in Malta's Ministry of Equality), Aaron Ramodumo (Chief Acting Director in Home Affairs, overseeing identity processing among other areas), and Sanja Bornman (Gender, Law and Policy specialist with the ACMS), focused on what a rights-based system is — and should be — in South Africa.
One crucial theme emerged from this session: South Africa needs substantive, lived, real-life, equality — not only legislative change.
"A human rights approach to legal gender recognition means substantive equality, equality in outcomes," said Bornman.
In the absence of (substantive) legal gender recognition, Bornman explained, all the other rights, both political and socio-economic, are undermined.
Attendees and civil society speakers repeatedly emphasised that laws and policies must be developed in collaboration with Transgender and Intersex people who are affected by these laws and policies.
The November 4 – 5, 2021 dialogue brings together representatives from the European Union and the South Africa government — notably the Departments of Health, Home Affairs, and Justice and Constitutional Development — as well as civil society organisations. Iranti is one of four CSOs that were a key part of making the conference happen, along with Gender Dynamix, the African Centre for Migration and Society (ACMS) and Intersex South Africa.
Register for the SA-EU Dialogue here: bit.ly/SAEUTalk