Iranti celebrates the appointment of Crystal Hendricks as the Chair of Intersex Steering Committee of ILGA World.
Crystal is a passionate Intersex human rights defender, born and raised in Cape Town. She is the Intersex Rights Programme Officer for Iranti and is involved in various intersex-related activities in South Africa and the Region. She also serves as an advisor on the Intersex Human Rights Fund Board, and is part of a group of Intersex activists that, in 2017, took Intersex South Africa (ISSA) out of its dormancy.
As an Intersex person, Crystal believes it is essential that the voices of intersex people be heard. She works tirelessly to ensure that Intersex people themselves are centred in conversations and decisions on issues that have a direct impact on their lived experiences.
It's a fantastic opportunity to advance the rights of intersex persons around the world as the Chair of the ILGA Intersex Steering Committee. The fact that Africa is represented on a global level is also a tremendous accomplishment. This provides a chance to concentrate on the intersecting problems that intersex persons experience around the world and how to create plans that will prioritize intersex rights internationally.

Crystal Hendricks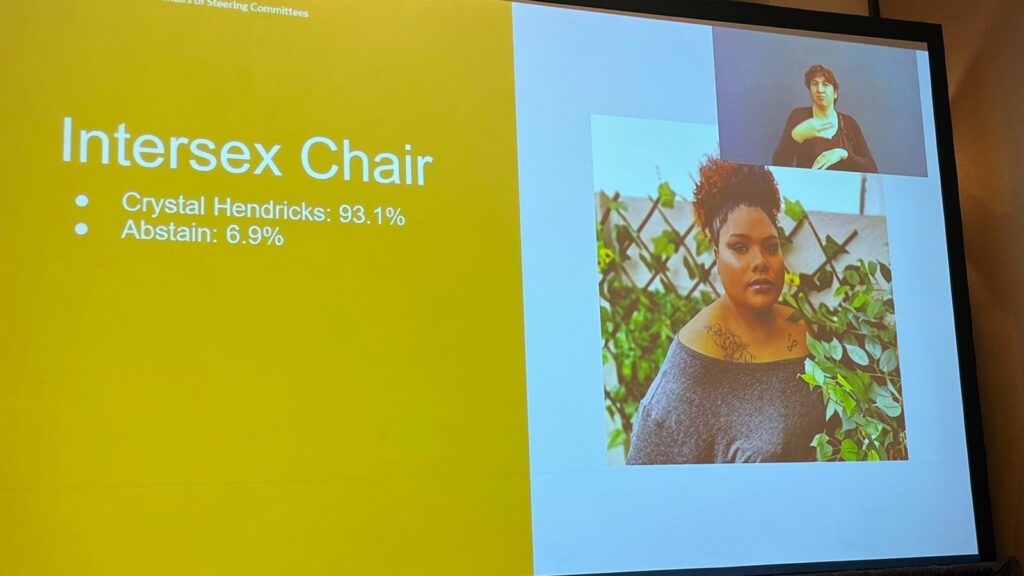 ILGA World acts as a lightning rod of LGBTI organisations and communities and movements working towards creating a world where queer people are safe and included in all aspects of life. This includes advancing the rights of those who face discrimination on the grounds of sexual orientation, gender identity, gender expression and/or sex characteristics (SOGIESC), achieving equality, freedom and justice for lesbian, gay, bisexual, trans and intersex people through advocacy, collaborative actions, and by educating and informing relevant international and regional institutions as well as governments, media and civil society. ILGA also works to empower its members and human rights organisations in promoting and protecting human rights and diversity SOGIESC around the world. [extracted from the ILGA World website]