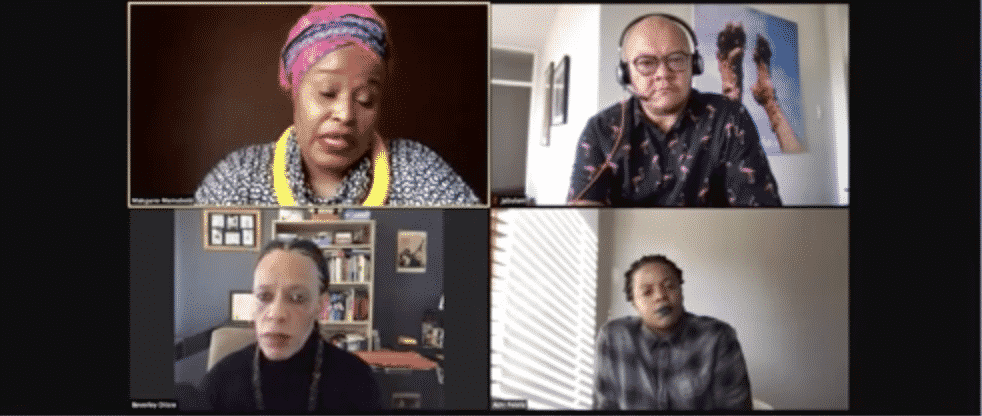 Queer stories are not being represented in the South African media landscape with most stories showing a skewed, stereotyped view of queer lives.
This was the view of panelists speaking on a National Film and Video Foundation panel discussion focusing on "Embracing Diversity for Queer storytelling" moderated by creative producer Makgano Mamabolo on Friday May 14, 2021.
The panelists included Iranti executive director Jabu Pereira; award-winning filmmaker and activist Dr Bev Ditsie; Feather Awards founder Thami Dish; artist manager Wesley Gainer; creative specialist Athi Petela and actor and film director Thishiwe Ziqubu.
The NFVF is an agency of the Department of Arts and Culture which seeks to to ignite stories of the South African film industry.
Opening the discussion, Mamabolo said it was a critical time to address the issue of queer representation in the media. The need was sparked by the backlash to remarks made by filmmaker Athi Petela's response to a question on casting straight people as queer characters.
"It's a question that is very important to the queer community because representation matters," she said, adding that it was also an opportunity for the queer community to talk to the straight community.
Iranti founding director Jabu Pereira explained why the issue was key.
"As Iranti we engage in civic journalism and using new media, digital media and recently we've explored documentary forms. So I think it's different forms of representations in various forms of media that we need to talk about when it comes to queer representation," said Pereira, noting the emotional impact of film on people's lives.
"Queer people in media have historically suffered with intense stereotypes by film directors and film producers particularly trans people and trans bodies in movies. We as trans people are inserted as spaces of mockery, as jokes – particularly trans women – and so there are historical pains and grief that relates to mainstream cinema and how that is relayed in stereotyping lesbian relationships or gay people," he noted.
"So media itself has really to unpack its stereotypes and framing in that regard but the fact that that cinema uses this entire word called casting in itself is highly problematic because casting in itself relates to an unauthentic way of being," said Pereira.
"I think that hits hard when you start to replace queer people with non-queer people or cis straight people to represent their lives. I can't imagine a white person representing a black experience in that regard and so why should a straight person represent a gay experience and why should a cis person represent my experience as a trans man," he asked.
Pereira noted that even in a country with constitutional protections for LGBTIQ persons, their lives were represented in skewed ways: "People are highly obsessed with framing black bodies as pained bodies, as traumatised bodies, as dead bodies … and not bodies of joy, bodies of resilience, bodies with experiences," he said.
It was essential therefore for queer people – who have created cinema and theatre – to reflect: "When you're queer you cannot be queer without introspecting your own your own personal transformation and so there's no dis-identification to our experiences in that way."
Dr Bev Ditsie said it was ludicrous that this was first time such a discussion was happening under the NFVF banner when queer stories were part and parcel of storytelling of the country.
"It goes to show just how not represented we are. I see us as being misrepresented everywhere," said Dr Ditsie.
"We are a caricature… unless we are entertaining or serving something, we do not exist. Trans men don't exist. I do not see Jabu on my screen. Gender non-conforming people like me do not exist on my screen. Non-binary people like Thishiwe exist only when they are framed in heteronormative terms. And that's all we are …unless you are 'this' or you are 'that', we do not exist. And so we are a figment of somebody else's imagination of who and what we should be and that imagination comes from the caricatures that have been regurgitated throughout our media space, throughout our lifetimes," Ditsie added.
"Every time we see ourselves we see only a fraction of who we really are across the board. So no, we are not represented. We have not even begun to be represented," she said.
Ditsie recalled on the refrain highlighted in HIV activism when their stories were told by scientists and researchers without lived experiences: "Nothing about us without us."
"Since then it transcended from all the different activist spaces to literally mean how do you speak about a people and write about a people when you have no clue who they are. Just because you read it does not mean that you know the lived experience," she added.
Filmmaker Athi Petela, whose film "Trapped" was recently released, said she set out to tell full stories about queer lives: "We have (full) lives. We're daughters, we're friends, we're sons well a lot of things and every time we see those stories on the screen it's almost as though that part of us doesn't exist and all the other parts come in the forefront. "
She added that her film had a deliberate happy ending.
Explaining the controversy around her remarks on selecting straight actors for queer roles, Petela said she was surprised at the controversy as her film had cast queer persons: "Everyone who came through in the story embodied the story. And then the cyber bullying came and I wasn't sure what to reply to and and what I was fighting because I shot a queer film and I cast queer people," said Petela.
Film director Thishiwe Ziqubu highlighted that their identity was important to their storytelling "First of all, I must say I do not identify as an actress. I'm an actor.
"That's one of the reasons why the space is so problematic, why the acting space, the casting space is so problematic, because we are always required to identify within the binary gender before we can do the work. So I must first identify as an actress or actor before I can do the work," said Ziqubu, adding that they were grateful to be a director and writer who was able to tell stories themselves.
Ziqubu said cis heterosexual film makers should not write and script queer stories as this was not their experience to claim: They simply did not understand queer lives.
Watch the full discussion here: https://fb.watch/5ubKrp6Xx8/